83 Kilometers
800 meters of climbing
3-4 hrs
About 25% gravel 75% tarmac
Central Mallorca is a treasure trove of gravel routes waiting to be discovered. Officially known as the "Pla de Mallorca" (The Plains of Mallorca) this region includes the municipalities of Sineu, Montuiri, Algaida, and Porreres. This ride starts in the town of Montuiri and heads anticlockwise to Algaida and looping south of Randa, before heading east towards Porreres and then south of Villa Franca de Bonany and then back to Montuiri.
After leaving town and the windmill next to the museum, we start with wonderful dirt roads through Mallorcan farmland. It's great to jump into a ride with a nice stretch of gravel – 5 of the first 8 kilometers are off the tarmac.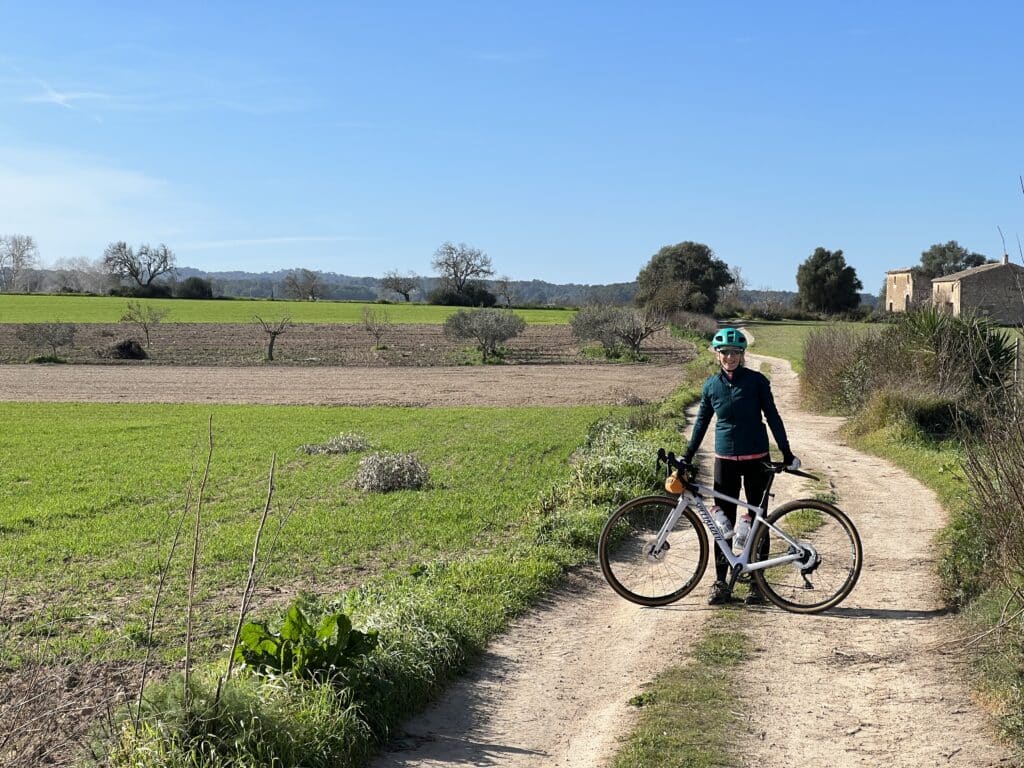 The route wanders through the outskirts of Algaida before a wonderfully scenic tour of Possessió Binicomprat, a large estate owned by the Oliver Moragues family since 1511 and now home to an agritourism hotel. The road name quickly tells us where we are headed next.
The Camí de Castellitx per Binicomprat winds its way through the woods depositing us at the medieval village of Castellitx de la Pau, one of the first churches and villages built after Jaume's conquest of Mallorca from the Arabs. While this road isn't gravel, it's too scenic and fun to ride to leave it out.
A short northern detour on the MA 5010, sets us up nicely for another adventurous gravel section. After you have climbed up, over, around and down Cami de Son Roig, take a moment to look back at the picturesque Puig de ses Bruixes whose lower slopes you have just traversed.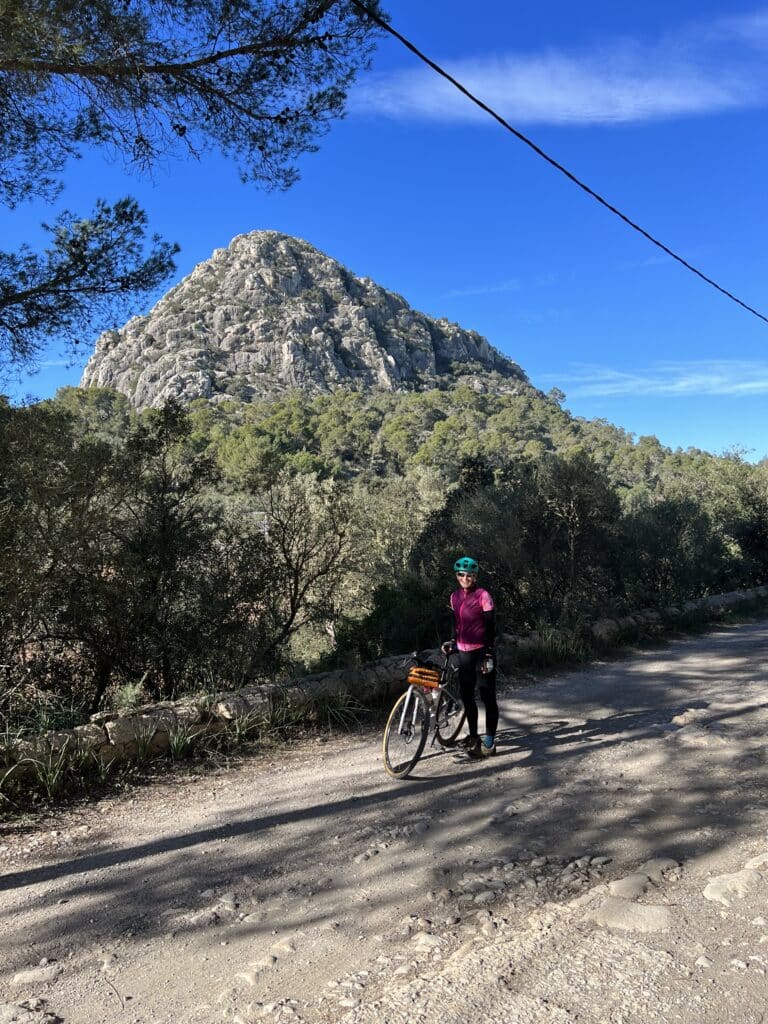 Our route circumnavigates the monastery at Randa, which is certainly a road ride worth doing, but today we head to its southern flanks on hidden backroads and some fun dirt roads that lead us back to Montuiri.
For riders looking for a shorter day, you can call it quits after riding this first loop and come back for the second half another day. Alternatively, you can start your ride in Montuiri and ride the second half of this route which heads south and east of town.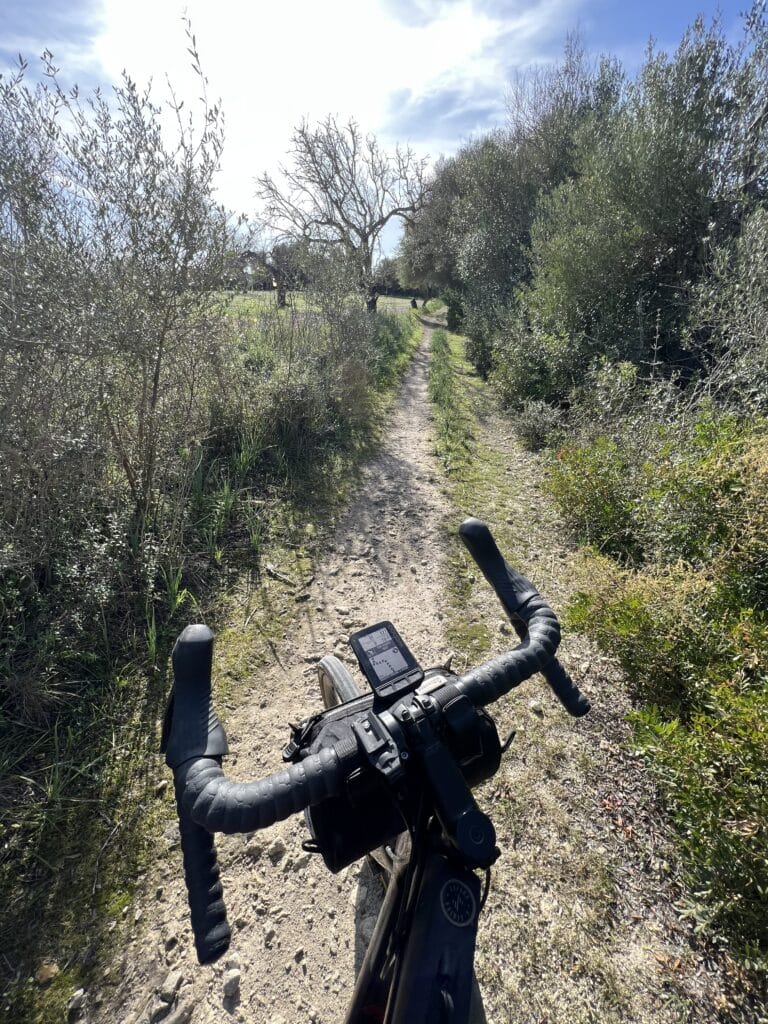 This route has a feature that is just common enough that it deserves a name. "Downsizing road" or "disappearing track" both come to mind.
You begin on a two lane tarmac road which then narrows to a single lane. Eventually this turns to gravel and the quality of this road deteriorates or gets overgrown until it is now a single track trail.
Musicians might liken this to a decrescendo, or going from louder to quieter.
Anyhow, this is a favorite feature of ours and we think you'll enjoy the surprises that you discover on this route.
The second half of the Montuiri Algaida gravel route is mostly through agricultural land and oscillates between narrow tarmac roads and gravel or dirt.
You never quite reach Porreres or Villa Franca de Bonany, but both are quite close if you want to venture into town for a cafe.
You can download the GPS file of the Montuiri Algaida Gravel Route to your Garmin or Wahoo bike computer using the embedded map below from Ride With GPS.