What's the best gravel tire for Mallorca? What tires should I use on my gravel bike?
That's probably the most common question when visiting a new area, riding a new route or signing up for a gravel race. (My British friends probably ask a similar question about gravel tyres…)
Every rider will have their own opinion and most are probably valid.
What is probably not debatable at this point is the need for tubeless tires. In my opinion, tubeless tires are mandatory for gravel riding. They allow you to run much lower pressure without the risk of pinch flats aka snakebites. Wider volume tires on wider rims at lower pressures is the secret to riding gravel.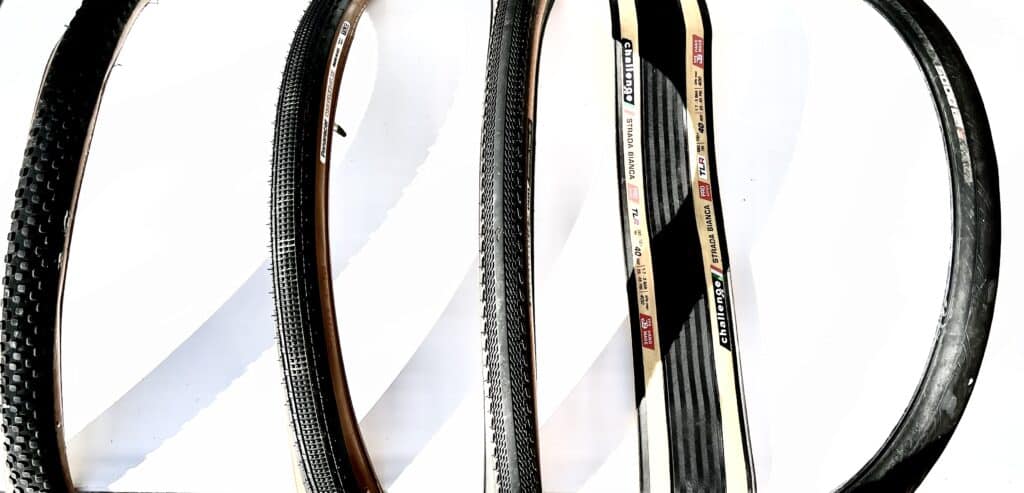 When selecting a gravel tire you first have to ask yourself a few questions:
650b or 700?
What will fit on my bike?
What kind of rider am I?
650b certainly has its fans, but it's not something we have personal experience with. You certainly get a lot more rubber between you and the road, so 650b is a good option if the going gets rough.
I'm a roadie at heart and I enjoy going fast on a nimble bike. I've done some mixed surface rides on an aero race bike with both 25 and 28mm tires in the past. Plenty of Paris Roubaixes have been won on skinny tires. Don't assume that a route is impossible without big knobby tires. I'm sure I'm not the only person who has explored some Mallorca gravel roads on a rental bike with 25 mm tires.
At this point, I've ridden 3 different tires on my gravel bike. All were 700c and set up tubeless.
32 mm Continental GP 5000 TL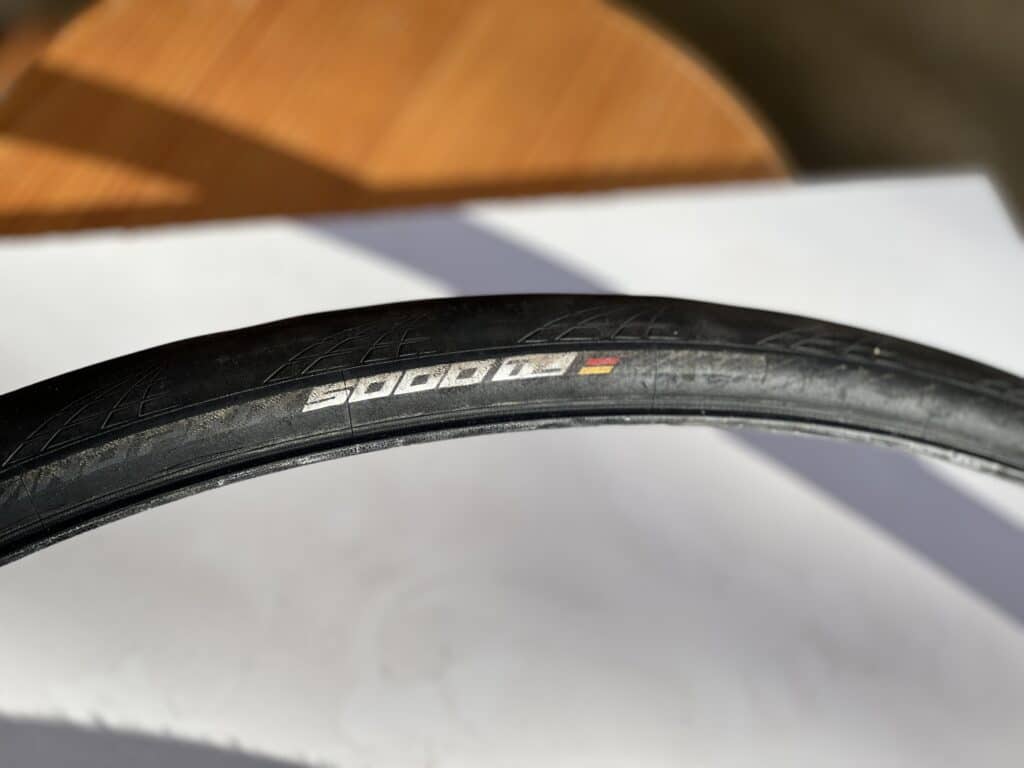 I'm a big fan of the GP 5000 tires. It took Continental a long time to get into the road tubeless game, but these are my go to tires for my road bikes. I run the 25 mm tires on my Scott Foil (rim brake) and they have done pretty well on tamer gravel roads.
Both Allyson and I have run the 32 mm GP 5000 on our gravel bikes. They are wonderfully fast and smooth on the tarmac and handle surprisingly well on gravel. They aren't mountain bike tires by any stretch of the imagination, but the difference between 25 mm and 32 mm is noticeable.
If you mostly plan on riding on the road and want to take a shortcut here and there on gravel, these would be a great choice. If the gravel gets adventurous, you might need to slow down a little and descents might not be plush. However, you can probably take them more places than you would expect. At 80+ kilos I run these at about 50 PSI or 3.5 bar.
In October of 2021, Continental announced their newest iteration of this tire.
They claim that the latest GP5000 S TR tire is significantly improved over the previous Continental GP5000 TL. According to Continental, the new tire is 20 percent faster, 28 percent stronger and 50g lighter.  This tire was used by Sonny Colbrelli in his Paris Roubaix win, which seems like a heck of a testimonial.
Based on my experience, I would feel very safe recommending the newest GP 5000 S TR in 32 mm.
42 mm Rene Herse Hurricane Ridge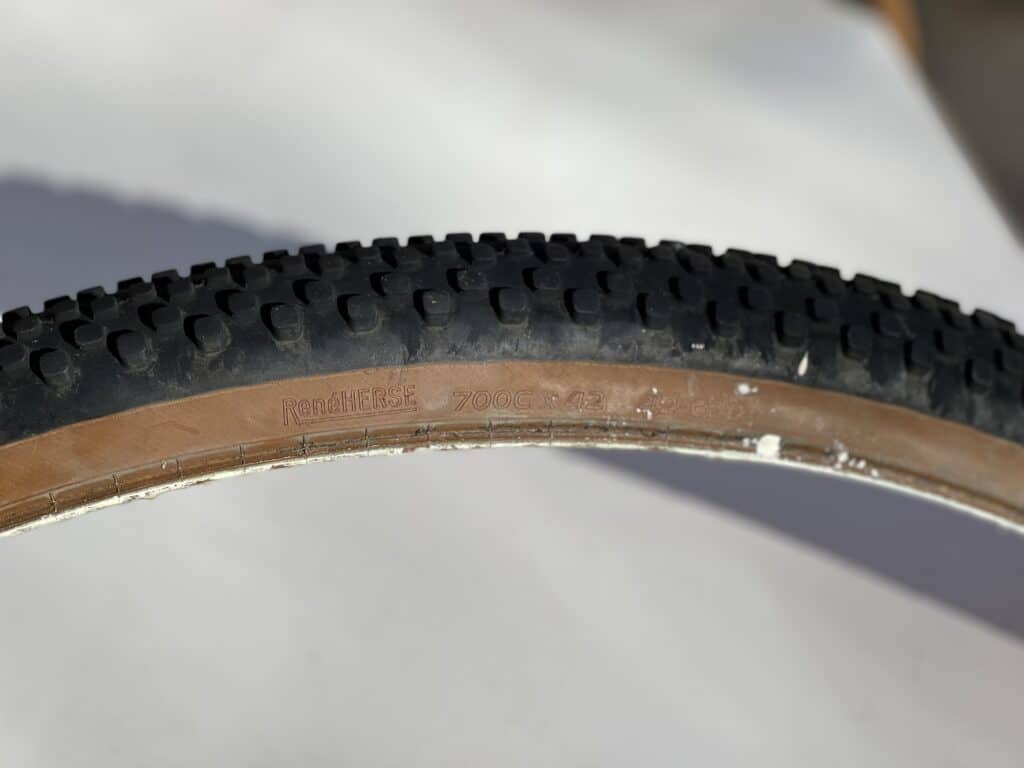 Rene Herse is known for a wide range of supple adventure tires in both 650B and 700c. They basically have two tread designs. One is a smooth tire with herringbone or file tread and the other is a very knobby tire. Most tires come in a standard, endurance and extralight version. Rene Herse has an unusual naming convention for their products and give every width its own name. Therefore, the Hurricane Ridge is the same tire as the Steilacoom which is their knobby 35mm tire. A few of their narrowest road tires do not come in tubeless versions, so it makes sense to double check before purchasing.
The knobs on the Hurricane Ridge are evenly spaced and tightly packed. The idea is that this will help the tire roll faster.
In my experience this tire will give you a ton of confidence on rougher gravel roads and single track. If I found myself wanting a bigger tire, I would also consider whether a hardtail mountain bike or a bike with a suspension fork might be a useful tool.
I did slash a sidewall on this tire, but ironically not while riding rough roads. I hit a sharp rock while on the highway in a mixed surface event. This was the endurance casing and not a lighter version of the tire. At home we were able to sew up the cut and it has been performing great since then.
This tire isn't horrible on the road, but it does seem a little sluggish. It feels like it rolls fine once it is up to speed (on downhills for example) but takes a little bit of energy to get rolling. Generally it feels fine cornering on tarmac, but I did have it squeal on me and slide a little on a sharp corner. If you are riding on gravel or dirt 75% of the time, this is probably a great choice for you and will be fine on the short sections of road that you travel to reach the dirt. I run these tires at 25 psi or 1.7 bar.
40 MM Rene Herse Tubeless Tire
I think that a smooth tire or one with a very small herringbone or file tread is a great choice for most riders in the 38-40 mm size range. I think that width and PSI are probably more important than tread unless you are dealing with mud.
Remember how I mentioned that Rene Herse has a wide assortment of tire widths to choose from? Unfortunately it seems like there is a gap in their product line and that gap is right where I was planning to purchase a new tire.
Rene Herse has a huge range of 700c slick/ herringbone tread tires in 26, 28, 32, 35 and 38 mm. They have really wide choices in 44, 48, and 55 mm.
Rene Herse offers knobby tires in 38, 42, 48 and 55.
In my mind, I wanted a 40 or 42 mm fast rolling Rene Herse tire. Unfortunately, as of 2021, my choices are 38 or 44. Maybe someday soon they will make a 700 x 40 tubeless Rene Herse.
40 mm Challenge Strada Bianca Pro HTLR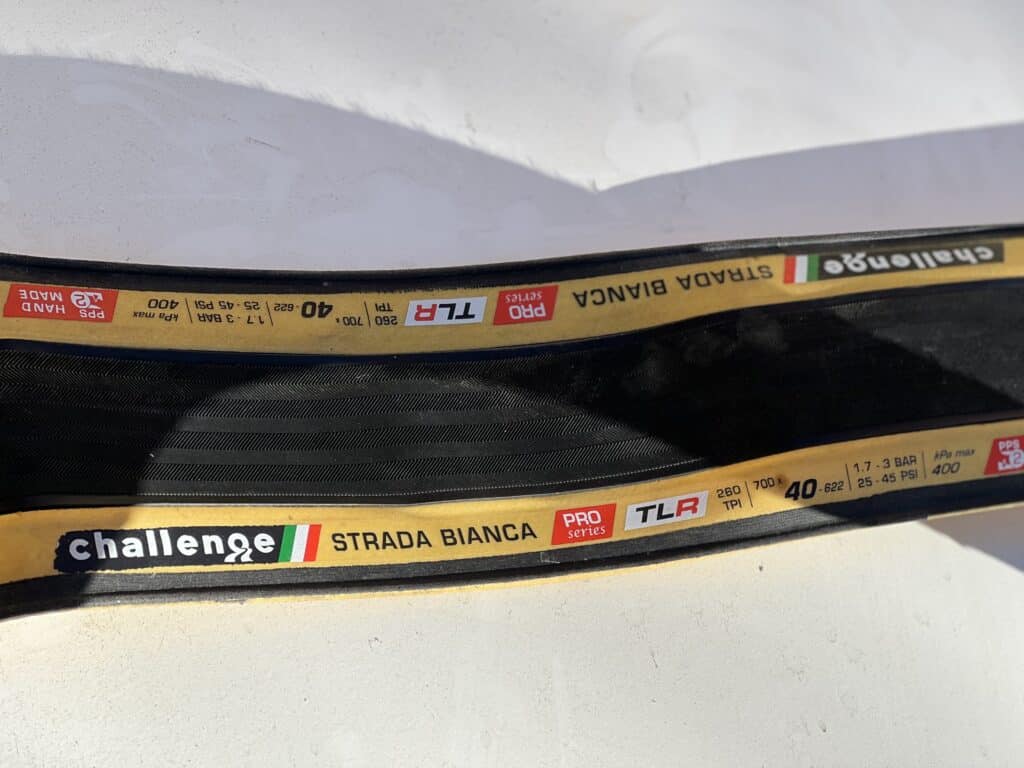 I was determined to have 40 mm fast rolling tires for our trip to Mallorca. This seems like a good compromise and will allow me to ride on the road without too much penalty and to explore most gravel roads on the island.
I read some great reviews about the Challenge Strada Bianca tubeless tire. It had minimal tread and came in a 40 mm tubeless configuration.
In two months, I rode approximately 3000 km or 2000 miles throughout Mallorca. I rode on gravel, dirt, sand and tarmac.
These tires were the perfect tire for the trip and allowed me to keep up with a moderately fast group ride that was all on road bikes and skinny tires. They also allowed me to ride a ton of gravel without a single puncture.
I ran these tires at 30 PSI or 2 Bar. If I was riding more gravel I think I would lower the pressure more, but this was a good amount of pressure for a mix of road and gravel.
I found that these tires worked really well for broken roads with lots of potholes and for dirty winter roads with debris like leaves or acorns. On the MA-10 there are places in the shadows where I find that the road can be mossy and a little slick when wet and I found that a wider tire gave me extra confidence in these spots.
The one weakness for these tires is mud. They aren't a mountain bike tire or a cyclocross tire and they aren't designed for traction in slippery conditions or for shedding mud. We did find ourselves on a muddy farm track one day and these tires were just not up for the job. The Rene Herse Hurricane Ridge tires would have been my choice on this day.
What's the best choice for a gravel tire in Mallorca?
I think that a tubeless tire between 38-45 mm wide with a file tread or smooth tread is your best bet for almost all conditions.
What have your experiences been? What's your favorite gravel tire?