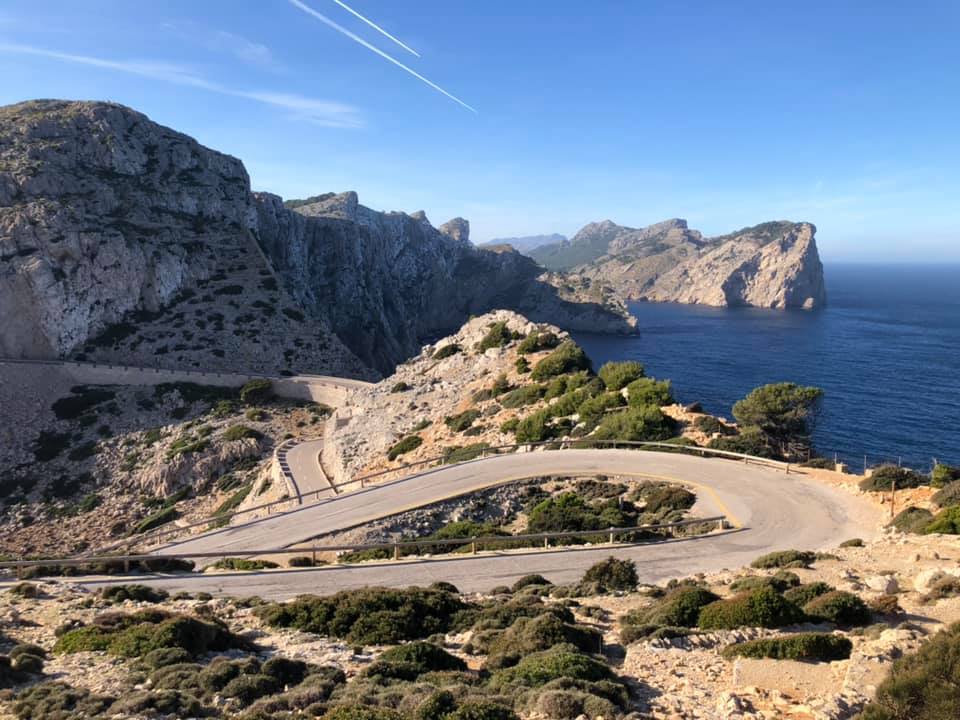 I first learned about cycling in Mallorca as a cycling paradise while competing in cyclocross in about 2013 or so. Sven Nys, the Belgian cyclocross star, would visit often and his social media posts had me curious about this Mediterranean getaway,
Both Allyson and I love to travel and over the years have realized that Christmastime is a good time of year to get away without causing too much disruption in our real estate business. We traveled to Belgium for the "kerstperiode" of World Cup cyclocross races and to Scotland for Hogmanay, Europe's biggest New Years celebration.
Over the years, we decided that going someplace warm would be nice for a change. We had visited Hawaii a few times and Thailand too, but as great as both those places are, I'm just not built for hanging out at the beach for more than a day or two. A little research into Europe's winter weather showed us that Spain might be a good choice.
In 2016, we visited Costa del Sol in Southern Spain with Allyson's parents. We flew into Malaga and our road trip included Tarifa, Tangier, Gibraltar, Ronda, Seville, and Grenada. It was a great trip and we saw amazing sights, but it was too much time in the car and not enough time enjoying Spain.
Our first visit to Mallorca
The following year, we took a two week Christmas break and spent the first week in Brussels. The weather was wet and horrible, but we love Belgium at Christmastime with all of the holiday markets and the amazing light show at the Grote Markt. The special Christmas beer menu at the Poechenellekelder bar is worth the flight across the Atlantic alone.
Our second week was spent in Mallorca. It still amazes me that Brits fly down to the island for a long weekend. Our trip was split between Palma and Soller and we hardly got to see a thing.
We were both entranced by this incredible island. The cycling in Mallorca was incredible – great roads, gorgeous views and minimal traffic. The hiking was fantastic too and the winter weather was mild with mostly sunny days and a few rainy ones sprinkled in. The food was great and the varied history and architecture was fascinating.
In 2018, we came back for three weeks and I rented a bike. Allyson's parents joined us again. Week one our basecamp was a golf resort near Llucmajor, followed by a week in Pollenca and a third week in Port de Soller. When moving day came, we packed the car and I rode my bike. First from Llucmajor to Pollenca and then later from Pollenca to Port de Soller.
Three weeks on the island was great, but there still was so much to explore. We both were absolutely enamored with cycling in Mallorca and shocked that it was so quiet in December.
Regular visitors to Mallorca
We also started wondering about bigger possibilities. Were we really that busy at work from Thanksgiving to Christmas? Since you only live once, we decided to risk it and in 2019 we visited for two whole months.
Our first week we stayed at a golf resort outside of Palma, but then returned to Pollenca and the vacation home in the village where we had stayed the previous year.
Pollenca is a great location with easy access to the big climbs in the Tramuntana mountains. There are also plenty of options for flat riding to the south and towards the center of the island. There are plenty of expats about and tourism traffic in the summer months means lots of English speakers around.
Spain was on lockdown in the fall of 2020 and it was impossible to visit. I'm writing this in 2021 and we are back again for another 2 months on the island.