We have heard a few people mention that they have heard or read online that riding gravel in Mallorca is difficult. We think riding bicycles on the dirt and gravel roads here can be accessible to most cyclists but want to help answer the question.
Three types of challenges come to mind.
What does it mean when people say that gravel riding is hard or difficult?
Route Finding or getting lost
Steep routes or physically demanding
Technically challenging gravel routes
Getting lost on Mallorca gravel routes
We will admit to getting lost once or twice in Mallorca. It has happened on hikes, driving in the car, riding the road bike or even on a gravel ride. Geordie once was following someone else's route and ended up trapped behind some tall fences. Our goal is to provide routes that are easy to follow with a GPS computer and to prevent you from getting lost. We don't think that route finding is a big challenge for riding gravel in Mallorca.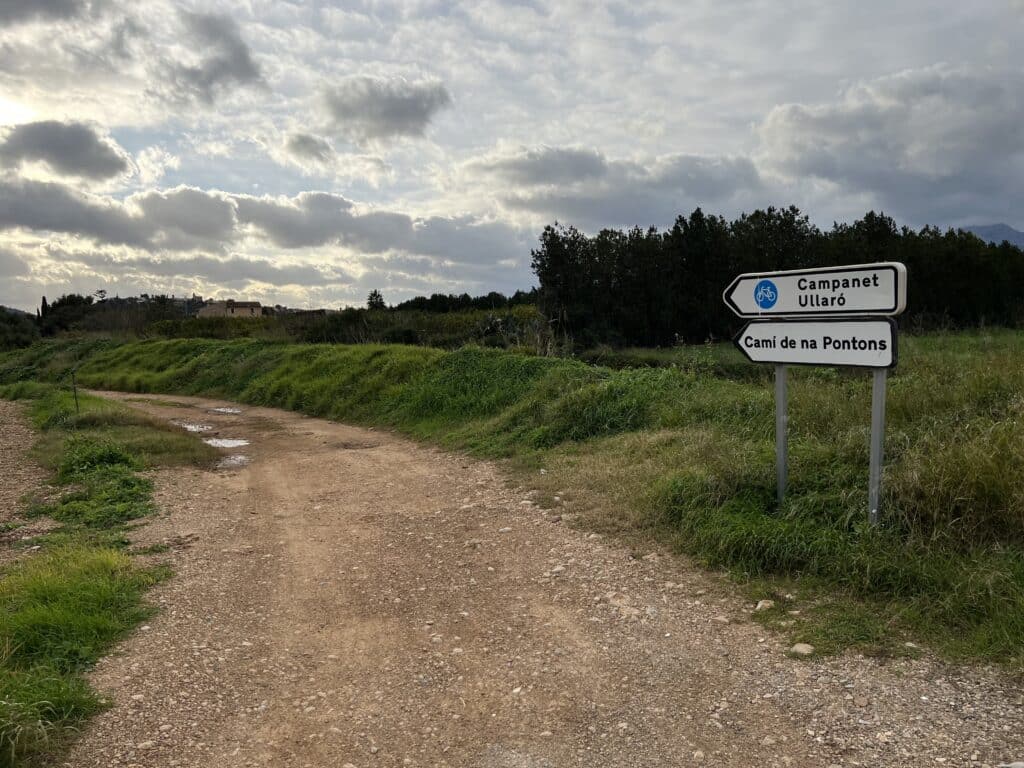 Physical demands of Mallorca gravel
Many of the gravel roads in Mallorca are in the central part of the island and serve agricultural areas. These roads have some rolling hills, but rarely do they include the long climbs typical of the Tramuntana. Some routes in the mountains or to monasteries atop hills can be steep and physically challenging. However, there are plenty of flat gravel rides and hill climbing is not necessarily required.
Technically challenging gravel rides
At some point, a gravel ride becomes a mountain bike ride. Perhaps it's tree routes, soft sand, or rock gardens. Or maybe the single track is narrow and twisty and hard to negotiate. We have all encountered such sections on a ride before and sometimes they can cause a rider to walk for a short section.
We feel that it's ok to have a few short sections of technical riding on a gravel route. This could mean sand or single track or maybe some larger stones in the road. Some "champagne" (cava?) gravel roads are smooth enough to be ridden with a road bike and narrow tires, but we think that tires between 35-42 mm are the best choice for most gravel routes. If tires above 50 mm are necessary, it's starting to look like a mountain bike ride isn't it?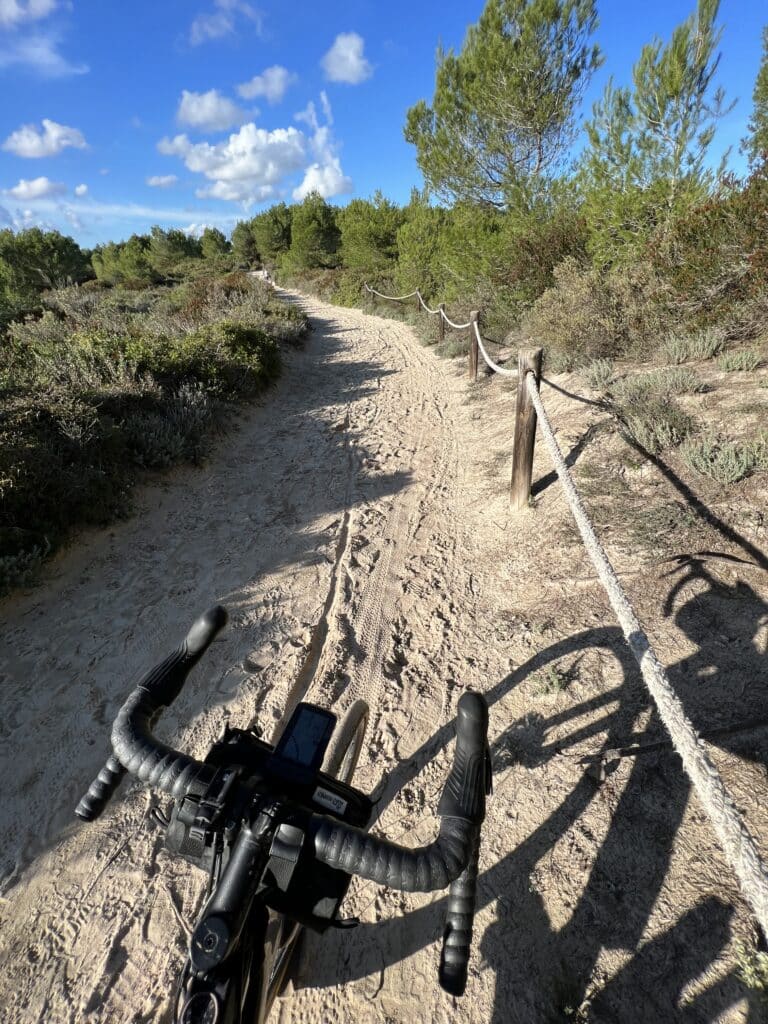 We don't think most gravel rides in Mallorca are difficult or technically challenging. We generally ride with 40 mm tires with a smooth / herringbone tread. Geordie is an experienced cyclocross racer and has good technical skills, but Allyson is newer to the sport and does not regularly experience challenging sections that force her to dismount.
In our opinion, suspension isn't needed on a gravel ride in Mallorca. Riders looking for extra comfort may enjoy a Lauf suspension fork or a suspension stem from Redshift or FSA, but usually lower pressure and wider tires is remedy enough.
There are some rare cases where carrying or walking with your bike might be necessary. Our Siller Hike-A-Bike requires some walking and you probably will walk a little on the sand on our Albufera route along the sea.
Is riding gravel in Mallorca hard?
We don't think that riding gravel in Mallorca is difficult and we think gravel cycling here can be enjoyable for cyclists of all ability levels.